Environmental Facilities
An introduction to our environmentally-friendly facilities.
Photovoltaic power generation device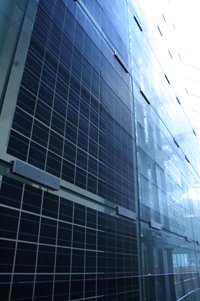 A photovoltaic power generation panel inserted between two panels of glass is set into the glass walls of a staircase.
Photovoltaic power generation panels are usually installed on roofs and rooftops.
Because this one has been installed on a glass surface, its front can be seen from the park side and the wiring on its back can be seen from the inside of the stairwell.
The 7.5kW electricity output is also being used to power the building.
Wind power station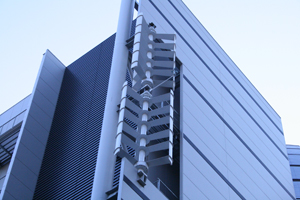 Two windmills of straight wing/vertical shaft type are installed on the northeast wall of the 4th and 5th floors of the building.
The total electricity output of 6kW from the two windmills is being used in the building.
Green wall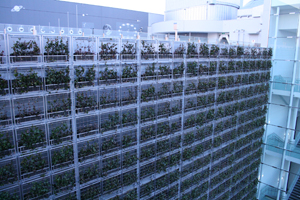 A green wall unit measuring about 1,500 square meters has been installed on the south side of the building to reduce the air conditioning load by reducing the surface temperature of the outside wall and thus reducing the effects of the heat island phenomenon.
It primarily uses a highly weather-resistant Hedera vine to demonstrate year-round consideration for the environment.
A lawn has also been planted on the rooftop in the "Stellar Garden".
Cool heat tunnel
To reduce the burden of air conditioning on the environment, outside air is taken underground where it is cooled in summer and heated in winter through geothermal utilization before being sent to the air conditioner.
This cool heat tunnel is used in the underground area of the now demolished Science & Technology and Astronomy buildings.
The tunnel also helps lower construction costs, shorten work periods, and save on air conditioning costs.
Rainwater storage tank
An underground storage tank to store rainwater collected on the roof that can be used for toilets and for watering the green wall.
As with the heat tunnel, this is also used in the underground area of the demolished old Science & Technology and Astronomy buildings.